Unlike the other gentlemen who were celebrities broadcasting Polish-American programs, Joe was employed at WKAL, Rome, 1450 on the dial, as a full-time in Sales. That is, he would make calls to sponsors (Advertisers), collect the necessary information to use for radio broadcast commercials, return to the station's offices, submit the information to a person in the Continuity department who would then sit at a typewriter, collate the information and write the 10 second, 30 second or 60 second which was called a commercial. It was then scheduled to be aired by a person in the Traffic Department which provided a schedule of when the commercial was to be broadcast on the air. These scheduled times were referred to "fixed" time -- that is a fixed time as selected by the sponsor (he or she who paid for the airing of the information), it could have been at different times of the day or it could have been "run of schedule" which meant the announcements were inserted into different times during the day. This method was used to reach as many listeners as possible for the different times of the day --- morning, afternoon and evening hours. The prices for these different schedules varied with a higher premium for those hours which attracted a larger radio audience.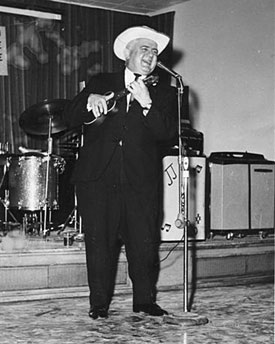 This photo tells it all. Joe was at his best when he was performing in public. He loved the public and the public loved him.
Joe Trela, of course, was of Polish descent but I find it interesting in doing research for this project, Joe's mother was of Jewish decent who later was converted to Christianity and to Roman Catholicism. She was a native of Frysztak, Poland who later emigrated to the good 'ole USA settling in Massachusetts. She was adored by her family as a female person of honor, dignity and hard work. It is said Joe and his brothers moved to Rome to find work. Rome, New York at the time was a city of factories, especially in the manufacture of copper products. The most economical means of sustenance was to rent living quarters at the lowest possible cost. They were referred to as "boarding houses" for which, at an affordable amount, a worker could obtain room and board. It was at a boarding house that Joe would meet the love of his life, his future wife, Harriet. Harriet was from Syracuse, New York whose family purchased a small farm in Taberg, New York. However, Harriet was interested in a career in retailing and so moved to Rome where she might further her career; she rented quarters at the same boarding house where Joe was also a guest. This is where their Love Story began. She was taken by him at first sight because the entries in her diary (how did I do this?) provide evidence that she had found the love of her life. I was personally exposed to their deep devotion to one another, Harriet worshipped the ground upon which he walked.
Mike Fusco was general manager of WKAL from 1946 to 1949. He hired two persons to sell radio time for advertisements. One was George Cramer, a real stand-up person and Mr. Wonderful, Joe Trela. Joe was fond of telling the story that the station manager had hired George to handle the "high class accounts" and Joe was hired to handle the "low class". Joe took it in stride because later Joe became the station manager and brought in a lot of money for the owner of the station, Myron (Mike) Kallet who was also the principal in the Kallet Movie House chain. He owned the Capitol and Strand Theaters in Rome and movie houses in Utica, Oneida and in Pennsylvania.
Joe and Harriet Trela's two boys -- Joe Jr and Philip.
As a side note, Mike Fusco convinced "Mike" Kallet to enter the broadcasting business and WKAL, Rome was the second Amplitude Modulation Broadcasting station in the Utica-Rome market, assigned 1450 kc by the FCC. Later, Mike convinced Mike Kallet to enter the TV business and so WKTV was started, going on the air for the first time on December 1, 1949 on Channel 13, later moved to Channel 2.
In addition to his managerial duties, Joe and Harriet conducted their own Polish language program, Stary and Staro which became on the most listened to foreign language programs in Upstate New York. The program was heard on WKAL on Sunday mornings. There's a story which made the rounds back then that Roman Catholic priests in the Polish churches would trade times with others so they (the priests) could listen to Joe and Harriet.
Joe and Harriet also became very involved in community affairs. First and foremost, they were involved with their church, Transfiguration Church; Joe was always staging local variety shows on the stage of the Capitol Theater to assist in raising funds for the parish. He also was active of performing similar fund raising for Holy Trinity Church in Utica. In fact, Joe convinced me to sing songs at these stage shows. I recall singing "The Curse of an Aching Heart" and "Eh, cumpari". It was loads of fun. Joe really enjoyed producing the shows, performing (Ah, yes, "I'm the Sheik of Araby"). Then Joe would do a soft shoe from stage right to stage left to appreciative applause. Hee used Chuck (Charles) King as Interlocutor of the Minstrel shows. Charles, a Utica native, was hired as a staff announcer at WKAL. He was recommended by Nathan (Nate) Cook of WIBX , Utica, to Mike Fusco; Charles later was appointed General Manager of the WKAL and in the early 1950's Chuck was offered an executive's post with the Mutual Broadcasting System Network in New York City. Fred Jeske from Syracuse radio was given the job as General Manager but his tenure was short; Mike Kallet held a meeting in the Manager's office and took a survey of the employees who unanimously agreed that Fred had to go. Someday I'll reveal why. Joe Trela assumed the reins and the radio sales were galvanized. There followed an "era of good feeling' with Joe at the helm.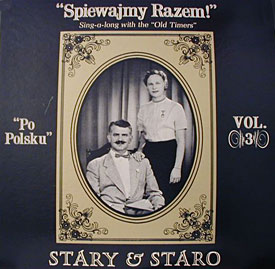 A photo of one of many albums created by Joe and Harriet of the famous: Stary and Staro.
Later, Joe left the manager's job at WKAL, accepted a job as radio time salesman with a new radio station in Oneida, New York, WONG. His last employment happened at WRNY where he sold radio time, did a Vernon Downs radio show using the name of Joe Alert (TRELA spelled backward). And I'm told that his last radio program was a clever program with a setting of a country store with Joe taking the part of all the characters. That was at WRNY, 1350 on the dial. The boss at WRNY was Carl Eilenberg who was to become Mayor of the City of Rome.
In the end, Joe Trela's strong heart gave way to the Cancer disease. A party held in his honor was tendered at the Polish Home in Rome. He had pre-recorded his remarks because he had grown weaker. I was there at the Polish Home for the occasion and alter I was at his Funeral Mass at Transfiguration Church. Soon thereafter, Joe's beloved Harriet, followed him in death. What a great love story.
Joe and Harriet were the proud parents of handsome sons --- Joe Jr and Philip. Joe's great-grandson, also named Joe Trela, was the winner of one million dollars recently on the program "Who Wants to Be a Millionaire". I have added a link to the You Tube video. It is a very exciting program.